Program stoves remain available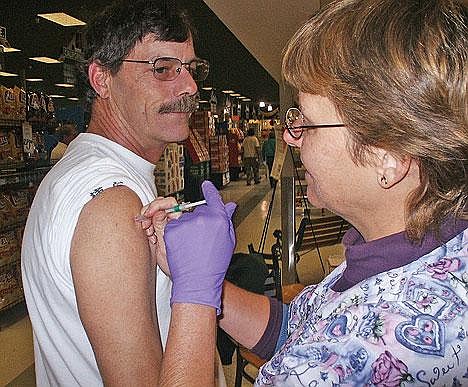 Program stoves remain available
|
October 28, 2005 12:00 AM
A program to replace old, polluting woodstoves in the Libby area with new, more efficient models has hit the 100-installation mark, county sanitarian Ron Anderson told the county commissioners on Wednesday.
That leaves 200 stoves, donated earlier this year by the Hearth, Patio and Barbecue Association, available at no cost to eligible low-income area residents. A $100,000 grant from the federal Environmental Protection Agency is helping fund installation.
"We're only a third of the way to where we want to be, but it feels good to reach a milestone," Anderson said.
Aimed at helping the Libby area meet new federal air quality standards for fine particulate matter, the changeout program kicked off in June but got off to a relatively slow start. As predicted, applications for the new stoves started coming in faster after Labor Day, said HPBA public affairs director John Crouch, who was visiting Anderson Wednesday to help plan next year's phase of the changeout.
"It makes sense," Crouch said. "All
human beings hate to think about winter before Labor Day."
Word of mouth may also have helped increase interest in the program after people realized "there really was no bill that came in the mail later," Crouch said.
Some people still have a hard time understanding that there are no hidden costs, said program coordinator Jerry Marquez. He related the story of a woman who was moved to tears when she finally realized that all costs were covered.
"She said, 'I just can't afford that,'" Marquez said. "I said, 'Ma'am, I haven't asked you for any money.'"
This year's phase of the changeout program is geared toward low-income households. Maximum income levels are $17,456 for a household of one person, $23,419 for two people, $29,381 for three, $35,344 for four, $41,306 got five and $47,269 for six. Eligibility is also restricted to the core of the area not meeting air quality standards, loosely described as the area bordered by the ends of the four-lane section of U.S. Highway 2 on the west and south, by the Kootenai River on the north and by Libby Creek on the east.
To apply, eligibility must be established first by verifying income at he fuel and energy assistance office, the public assistance office, Head Start, and — for seniors — at the Libby Senior Citizens Center. Those agencies can provide a signed form letter validating income, which is all that is needed. Enrollment in assistance programs isn't required. Once eligibility is established, application forms can be picked up at the agency providing the verification or at the county annex along Mineral Avenue.
Next year's program, which is still under development, will have no income restrictions. The cost of replacing old woodstoves with new certified models or alternate heating systems will be offset by a combination of vouchers and tax credits to owners, but some form of co-payment is expected to be required. The exact amount of assistance is not yet known and will depend on available funding.
Commissioner Rita Windom said she expects interest to rise along with the cost of energy.
"I think with fuel oil being $2.50 a gallon, we'll see more people wanting to rehabilitate their woodstoves," she said.
Commissioner John Konzen said he heard that the price of wood pellets for pellet stoves is increasing as well. Crouch said he thinks it's probably the cost of diesel fuel to transport the pellets that is driving up the final price.
"We're lucky to have two pellet manufacturers in Lincoln County, and they're busy," Windom said.
Phase two of the program will be driven by regulations, Anderson said. Under a plan approved by the county health board and awaiting action by the commissioners, people in the non-attainment area will no longer be allowed to use non-certified woodstoves starting in January 2007. Woodstove users won't really have a choice in the matter, he said.
"What you're saying is they have a choice either to burn wood or not burn wood," Konzen said.
Crouch stressed his organization's commitment to helping Libby. He acknowledged "a certain amount of self-interest" in using Libby as a demonstration project for new woodstove technology but said it's also "just a good thing to do."
"We're eager to get to the end and have the numbers and be able to say, "Look what we can do,'" he said.
---