READY FOR VOTING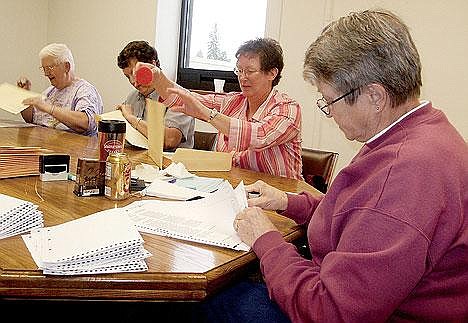 Dr. Lance Ercanbrack talks to Allison Score, her sister Alex and her mother Ray Eanes following the annual Breast Cancer Awareness Dessert on Tuesday night in Libby.
|
October 21, 2005 12:00 AM
— Harriett Johnson, Barbrara Hoff, Lois Skranak and Barb Hoeltzel prepare ballots for mailing in the election to decide funding for a proposed aquatic center in Libby. Voters will approve or reject a $2.8 million bond issue and $275,000 annual maintenance levy for the swimming pool complex. Ballots will be mailed to all voters in the Libby Park District — with boundaries matching the Libby School District — on Friday, Oct. 21. The ballots must be returned by Nov. 15, when they will be counted and the election decided.
---