PK gives Lake City title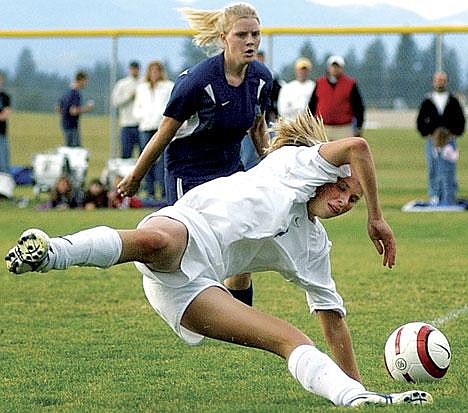 Kremer scores match's only goal and Timberwolves' defense does the rest
COEUR d'ALENE — For the third time this season, the Lake City Timberwolves battled the Coeur d'Alene Vikings in girls soccer, but this game had a little more meaning than the previous two.
With the 5A Region 1 championship and a berth in the state tournament on the line, the second-seeded T-Wolves upset the No. 1 seed Vikings 1-0 Thursday afternoon in front of a raucous crowd of about 200 at Coeur d'Alene High.
In a heated, hard-fought rivalry match, Lake City sophomore Ciara Kremer booted in a penalty kick from 10 yards out in the 39th minute, and the T-Wolves' stingy defense held off a valiant Vikings' offensive attack in the second half.
The left-footed Kremer was able to take the shot after teammate Kaitlyn McDonald was pulled to the ground inside the goalie's box.
"I like taking PK's, and I just knew I could put it away," Kremer said. "I've been working on it at practice and I felt pretty confident. I emptied my mind, focused on where I wanted to put it — lower left — and hit it. I knew it was going in. It had a good feel."
"She needed some success," Lake City coach Matt Ruchti said. "She's the type of girl that when she's on, she's on. So I've been looking for an opportunity like that for her, and I didn't even have to say anything. She was already walking toward the ball, and that's good enough for me. In situations like that, whoever steps up to take it, they're going to get the shot, because that tells me they want to hit it."
Trailing by a goal at the half, Coeur d'Alene was forced to be aggressive offensively.
"After the first half we didn't have much choice," Vikings coach Tarragh Carr said. "You can't bow down like that and expect to win. We needed to come out and we needed to rally, and we did that. Do I think in the second half that we were the better team? Absolutely. But you have to finish your opportunities, and we can't leave those opportunities hanging. That's how you lose games."
Utilizing a defense that featured a sweeper playing behind Lake City's back line, the Timberwolves were able to halt a Viking attack that controlled the ball for a vast majority of the second half.
"We worked on breaking down their defense all week," Carr said. "And in the second half, it worked better. In the first half we were a little bit panicky. We were testing the waters, and with a little bit of youth, a little bit of nerves, and the excitement of the match, it took us longer to get it together on the field."
In the 75th minute, the Vikings nearly struck paydirt.
Lake City keeper Nichole Powers stopped the ball, but dropped it and fell to the ground, leaving the net wide open.
Coeur d'Alene's Sadie Simon, a freshman, recovered the ball and took a shot, but senior Elizabeth Young was able to get a foot on the ball, preserving the lead for the T-Wolves.
The Vikings were threatening to score seconds later, but Young stepped in once again and cleared the ball.
"Elizabeth likes to win the ball, and that's all we want her to do," Ruchti said. "She stepped up, used that body of hers and saved us.
"Our defense played huge," he added. "Coeur d'Alene didn't get a lot of quality shots, and (Powers) didn't have to make any huge saves, and that tells me something."
In the last minute of the game, the players' emotions got the better of them.
Lake City's Ali Houghton and Coeur d'Alene's Tawni Griffitts got tangled up on the ground at midfield, and it escalated into a scuffle.
Under the "violent contact" rule, both players were automatically red-carded and ejected from the game.
"It's not about a soccer game with these teams," Carr said. "This city makes it about a rivalry, and it takes it to an entirely different level. It's immature and ridiculous and it should never come to that."
"That was totally uncharacteristic of both players," Ruchti said. "It's too bad to end a game on something like that. Now it effects both of us in the next round."
Because of the ejections, Houghton and Griffitts are forced to sit out of the next game.
Lake City (10-7-3) advanced to the state tournament as Region 1's top seed next week in Meridian. Coeur d'Alene (13-4-1) still has a chance to join the T-Wolves when the Viks take on Eagle (11-6-3) in a play-in game on Saturday in Lewiston.
First half — 1, LC, Ciara Kremer (penalty kick) 39:00. Second half — none.
Shots on goal — LC 7, Cd'A 6.
Saves — LC, Nichole Powers 4; Cd'A, Amanda Wemple 3.
---