North Fork operates on cutting edge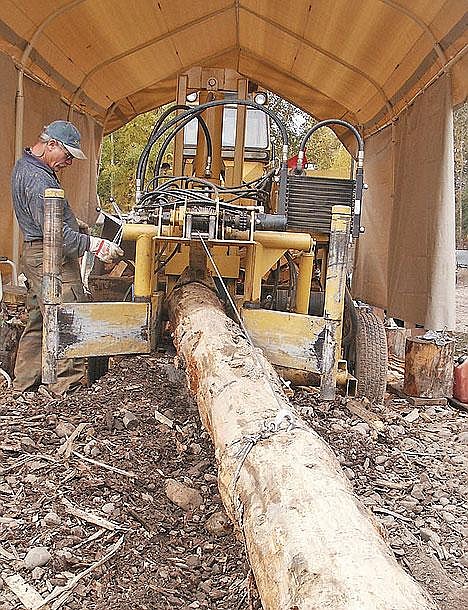 Randy Edwards feeds a log into the "chomper" at North Fork Forestry and Tree Services on the west outskirts of Libby.
|
October 14, 2005 12:00 AM
By STEVE KADEL Western News Reporter
A modest economic development success story is quietly chugging away on the west outskirts of Libby.
North Fork Forestry and Tree Service, owned by Tom Horelick, is feeding regional mills with logs while increasing his firewood sales at a time when just finding logs is a good trick.
Horelick began the operation a few years ago at a site south of Libby, and now operates on a couple of acres along U.S. Highway 2 across from Beck's Montana Cafe. Brown plastic tarps cover mounds of cut firewood while logs slated for other uses are stacked around the yard.
He has invested almost $30,000 in equipment, including a machine simply called the "chomper" that cuts logs into stove-sized pieces and quarters each section. Horelick's operation employs two men full-time and another part-time.
On Tuesday, Randy Edwards was at the chomper's controls while Steve Bryant tossed the quarters into a pile for loading into a delivery truck. Edwards said they cut five or six cords on an average day.
Firewood is just a sideline that Horelick has added, but it all adds up in a wood products market where profits are slim. He has no illusions about his place in the industry hierarchy.
"I'm the smallest guy on the block," Horelick said.
Then he joked, "I lose $10 on every cord, but I make up for it in volume."
He began expanding into the firewood business when he foresaw fuel prices rising. Last winter he had several orders but only a handful of logs. His inventory is better now, especially with a deal he worked out to buy logs from someone in the Yaak.
Finding enough logs for sale, either from private sources or from the U.S. Forest Service, keeps him as busy as the actual logging. Part of the reason he's still afloat, Horelick said, is that mills are taking 4-inch logs they wouldn't consider a few years ago.
That's due to better technology that can process wood that previously might have been considered scrap.
"I buy these short logs," he said, gesturing toward a pile. "There are guys who bring them to me because they don't want to see them go into the burn pile."
Horelick is proud of providing some jobs for the local economy without having taken any public seed money.
"About half my cost is stumpage," he said. "I pay a lot for wood, which puts me at a disadvantage in the marketplace."
Rising fuel costs have him hard, too, as they have other businesses. Horelick said he spent $2,000 last month just on truck fuel.
"The firewood business has grown. I'm slowly building a clientele, and it's starting to fall into place.
"I'm buying all the logs I can right now. Even if worst comes to worst, we'll cut it next spring and by next winter it'll be dry wood."
---