Forest Council, HCI honored by USFS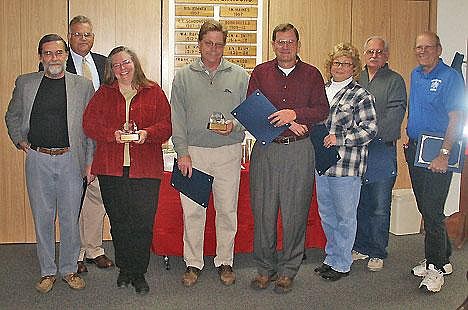 Those attending a ceremony by the U.S. Forest Service last week for winning National Rural Community Assistance awards included, from left, Kirby Maki, Pat Pezzelle, Robyn King, Russ Barnes, Dave Harman, Debi Davidson, Paul Rumelhart, and Bob Parker.
|
October 12, 2005 12:00 AM
Two Lincoln County projects are among 15 honored nationwide by the U.S. Forest Service's National Rural Community Assistance Awards program.
The Yaak Valley Forest Council and the Healthy Communities Initiative received RCA spirit awards for their proactive work encouraging individuals, groups and agencies to work together for the betterment of their communities and the surrounding natural resources.
Representatives of the two groups were honored Thursday, Oct. 6, at the Forest Service supervisor's office in Libby.
Those receiving awards include Robyn King, executive director of Yaak Valley Forest Council; and Healthy Communities Initiative members John Konzen, Lincoln County Commission member; Russ Barnes, Kootenai River Development Corp. president; Pat Pezzelle, director of Lincoln County Campus of Flathead Valley Community College; Kirby Maki, Libby School District superintendent; Bill Patten, St. John's Lutheran Hospital CEO; Bob Parker, Libby Area Development Corp. president; Dave Harman, Kootenai River Development Corp. vice president; Sandy Matheny-Fennessey, facilitator; Debi Davidson, Kootenai River Development Corp. administrative assistant; Libby City Councilman Gary Huntsberger; Alana Mesenbrink, U.S. Army Corps of Engineers, Libby Dam; John Desch, Kootenai River Development Corp. treasurer and Flathead Electric Co-op manager; and Greg Larson, Northwest Regional Resource Conservation and Development Council, retired coordinator.
"The Yaak Valley Forest Council and the Healthy Communities Initiative are great examples of how leaders and members of our community come together to work through tough issues," Kootenai National Forest supervisor Bob Castaneda said. "I am proud of the accomplishments of these folks and how their spirit of cooperation is focused to benefit the entire area over the long term."
The forest council is a nonprofit grassroots organization that continues to encourage and support the development of a local economy based increasingly on value-added forest products and ecological restoration. Castaneda noted that members of the council have been committed to cultivating meaningful dialogue among historically polarized groups.
"The council has always tried to get people to sit down and talk about the issues," he said, adding that the Forest Service has long had a good relationship with the environmental group.
The forest council helped Yaak Valley residents initiate and participate in a national pilot stewardship contract — the first of its kind on the Kootenai National Forest and among the first in the country. The project's goal was to reduce hazardous fuels in the wildland-urban interface while sustaining job opportunities for local loggers and providing wood products to local mills.
The council's participation in local and forest-wide planning and collaborative activities has helped the community explore more ways to become more economically diverse, Forest Service officials said.
The Healthy Communities Initiative is an informal group of Libby and Troy community leaders who organized in 2002 after the Stimson plywood mill closed. The group continues to foster coordination and information-sharing among numerous organizations, institutions, businesses, elected officials, and government agencies at all levels, Forest Service officials said.
The group has helped provide worker
retraining, the creation of a business park, walking paths, infrastructure improvements, and other projects.
"This group has stuck together to try to figure out what's needed in the community as far as economic development, health and other needs," Castaneda said.
The Forest Service's Rural Community Assistance program is an economic recovery effort aimed at helping natural resource-dependent communities. It is one of several Forest Service state and private forestry programs designed to provide technical and financial assistance to improve the economic, social and environmental well being of rural areas.
Kootenai National Forest officials noted that only two local groups were nominated this year, and both won national awards.
---