Teachers, youngsters benefit at library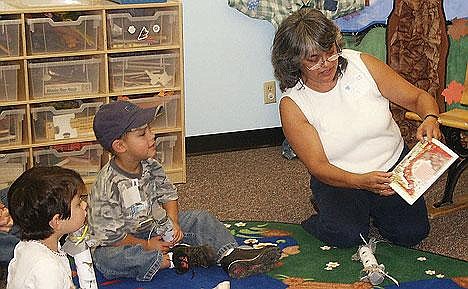 Mary Chaboya shows pictures to Cole Walker, 5, and Chaboya's granddaughter during a story time presentation at Libby Library.
|
November 10, 2005 11:00 PM
By STEVE KADEL Western News Reporter
Several youngsters sprawled on the carpet in the children's reading room at Libby Library while Mary Chaboya created a magical world where food fell from the sky.
It was the fourth session of a story time series sponsored by the library and a children's literature class from the Lincoln County Campus of Flathead Valley Community College. The series, called "Fall is in the Air," features a different theme each week ranging from leaves and changing colors to pumpkins and scarecrows.
Tuesday night's topic was weather changes. But before opening the book, Chaboya explained how rain and snow forms.
"That's real weather," she told the children. "We're going to read about silly weather tonight."
Then she launched into the story titled "Cloudy with a Chance of Meatballs."
Her young audience was mostly attentive throughout the reading, although there were a few lapses in decorum. One toddler let out a shriek in the back of the room. Later, a boy bolted forward to hug Chaboya.
She didn't miss a beat, though, and continued the story as if unaffected by the commotion.
"You have to keep doing what you're doing right through everything," Chaboya said when the reading was over.
She laughed and said her brief stint as the night's teacher didn't exactly go according to the script.
"If you look at my lesson plan it looks nothing like this," Chaboya told a classmate.
While she was reading, LCC instructor Bev Pezzelle sat in the back of the room taking notes on her student's performance. There would be a formal critique during a class session two days later.
The class is formally known as Early Childhood Education Language and Literature. It prepares those teaching pre-school or primary grades to choose appropriate books for their students, and to read stories in a captivating way.
The library sessions always start with a warmup. On Tuesday, children decorated rain sticks with stickers of turtles, bunnies, flowers and other things.
"They have a little activity when the kids walk in to get them engaged and used to the topic," Pezzelle said.
Monica Rice, a Head Start teacher, is one of nine students in the LCC class. She said it's made her consider topics that might be inappropriate for a public school classroom.
"Religion would be an issue around Halloween," she said.
Callie Reichow, another student, said the class has taught her how to make children's books more interesting when read aloud.
"It's the tone of your voice," she said.
Another goal of the class is to teach students how to link stories to follow-up activities. She added that the weekly story time provides good training for the college students because they never know how children will react.
The class also offers something enjoyable for local children and their parents. Up to 18 youngsters have shown up for the series of readings.
The last session will be held Tuesday, Nov. 15, from 6:45 to 7:15 p.m. The evening's theme will be hibernation. Call the library at 293-2778 for more information.
---