Mine impact costs discussed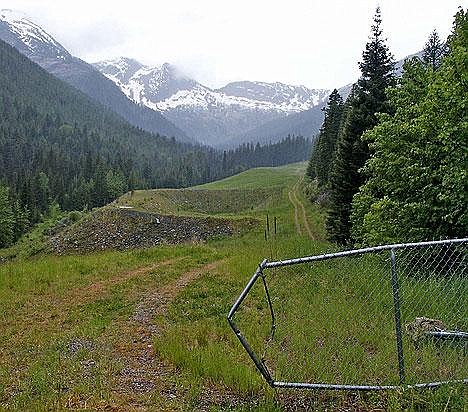 There's little sign in upper Libby Creek of the exploration adit that Noranda had pushed 14,000 feet beneath the Cabinet Mountain Wilderness. That would change in the next few years as Mines Management resurrects the project.
|
November 3, 2005 11:00 PM
By STEVE KADEL Western News Reporter
Property taxes paid to Lincoln County from the proposed Montanore Mine would average a little more than $2 million annually during the project's first five years, according to the Montanore Hard Rock Mining Impact Plan.
Those projections were made by Western Economic Services, a Portland research firm hired by Mines Management Inc., which wants to develop Montanore in the Cabinet Mountains southwest of Libby.
Robert Gauden, director of research and planning for Western, presented details of the impact plan Tuesday to city and county government officials along with Libby and Troy school superintendents. The plan, required by law, provides a way to assess the positive and negative effects of mine development.
The biggest source of tax revenue for the county would come from property taxes on the mine's land and improvements. That would yield only $10,000 in the first year of construction but would zoom to $2 million in the fifth year.
"This is the big money-maker," Gauden said. "This is the big kahoona."
Overall property taxes from the mine to the county would begin at $90,000 in the first year and reach $5 million in the fifth year, projections show.
However, the influx of residents needed to get the project rolling would significantly boost the amount of services required. Those range from emergency services to housing, health care and schools.
The hard rock plan estimates that the net impact to local governments in the mine's first year of construction would be a $180,000 loss county-wide, even considering property taxes from Montanore.
Eric Klepfer, vice president of operations for Mines Management, said during an interview that the company would reimburse the county
for that shortfall, and recover the expense in coming years through lowered tax payments.
Klepfer said the company wants to hire as many local residents as possible. Still, projections call for 173 new workers and family members moving to Lincoln County during the first year. The number of in-migrating employees and family members is targeted at 413 in the fifth year.
Much of Tuesday's discussion centered on whether there is enough housing to handle that growth. The research firm used the 2000 census to determine housing stock, and came up with 1,555 vacant units county-wide.
Several people said there is much less available housing today.
Lincoln County Commissioner Rita Windom said she moved to the area when Libby Dam was being built.
"Trailer parks were going up helter skelter," she said. "It was not a good thing. We are definitely going to have to do some planning."
Windom noted that speculators already are coming to town, many of them with their eye on south Libby land.
Klepfer said construction crews will be the first wave of newcomers, even with a local-hire preference. He said Mines Management will require that contractors have housing for their workers before they arrive.
"Our permanent staffing levels initially are going to be pretty small," he said. "The main part will be this traveling construction group."
Those workers will move on to jobs elsewhere after construction work is finished, Klepfer said.
He said an Environmental Impact Statement on the proposed mine is slightly behind schedule, but not significantly so. "We're pushing to see a draft EIS in January," Klepfer said.
Once the draft EIS is completed there will be another public review period, with the state Department of Environmental Quality and the U.S. Forest Service considering that data for the final EIS.
Mines Management officials hope for a Record of Decision by late 2006, with construction beginning in summer 2007.
"It's a two-year construction period if everything works perfectly," Klepfer said.
Mines Management will open an office soon at Eighth Street and California Avenue. It won't be staffed full-time, but Klepfer said he will be there Tuesdays through Thursdays. Informational displays will be posted in windows every few weeks to inform citizens about various aspects of the mine's operations, he said.
Many people at the Tuesday session expressed optimism about the mine's potential.
"There's a lot of support around this table for the project," Troy school superintendent Brady Selle said.
---