Cultural icons say: It's cool to be drug free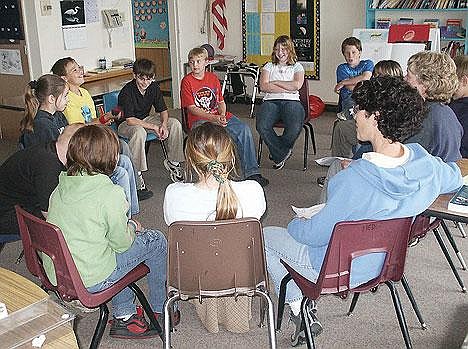 Morrison Elementary School students meet with librarian Sheila Patterson and special education teacher Terry Herman for a discussion after watching an anti-drug video.
By STEVE KADEL Western News Reporter
It's cool to be drug-free.
Educators have been telling students that for years and years. Last week, youngsters at Morrison Elementary School in Troy got the same message from some radical dudes they idolize.
Pro skateboarder Tony Hawk, motocross rider Travis Pastrana, extreme skier Wendy Fisher, snowboarders Dave Browning and Kelly Clark, along with Hip Hop dancer Mr. Wiggles and X-Games climbing champion Tori Allen all appeared in a 20-minute video to champion the straight life.
Former U.S. Drug Czar Barry McCaffrey has called the video - "Natural High - Riding the Drug-Free Wave" - the most effective of its kind. Morrison's fourth- through sixth-graders saw it Friday, and were entranced by images of motocross riders and snowboarders performing flips while rock music blared.
Hawk opens the video by saying everyone has special gifts and talents, which he calls "natural highs."
"Drugs are not the way to go," Hawk says, looking straight into the camera. "There are much better ways to get high. Find healthy addictions that will do something good for you."
Clark follows, saying she avoids drugs because they would prevent her from being a champion snowboarder. Rock climber Allen says much the same thing.
Mr. Wiggles emphasizes that drugs not only destroy the lives of those who take them, they also affect family and friends of users.
After the video ended, students broke into small groups for question-and-answer sessions guided by staff members.
Librarian Sheila Patterson and special education teacher Terry Herman led one discussion, with 10 students sitting in a circle. They asked what kind of activities, or "natural highs," the children enjoy.
Answers ranged from Hacky Sack to swimming and soccer. One girl said she barrel races on "a big, mean" horse while another said she enjoys drawing "because it's a way of expressing yourself."
What happens to people who use drugs? Patterson prompted the students by saying she believes "drugs numb you to reality."
"It can make you do things you'll never forgive yourself for later," a girl said.
Another student said, "You'll just be a big blur."
Yet another exclaimed, "You would be throwing up all the time."
Ralph Stever of Flathead Valley Chemical Dependency's Libby office arranged to have the video shown at Morrison, and again for older students. He said kindergarten through sixth-grade is the best time to reach youngsters with an anti-drug message.
"That's when choices are made," he said. "That's when they need to be armed before going to the toxic playground at middle school and high school."
Stever said the video is available for others such as scouts or church groups to use. Those who are interested can contact him at 293-7731.
He gave some valuable advice to the Morrison students before they watched the video.
"You are the future of Troy, and you have the power to make choices," Stever said. "Your choices radiate out and they affect your family and everyone around you."
---