Ambitious students entering college with course load behind them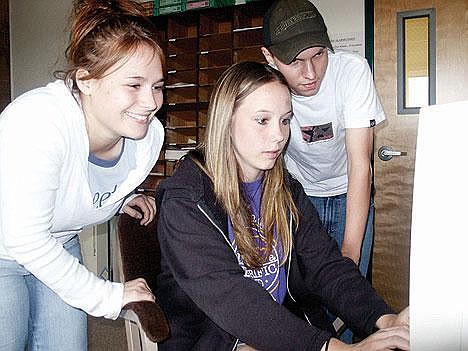 Brittney Larson types at a Lincoln County Campus computer as Cassi Myslicki and Jake Shaver look on.
By STEVE KADEL Western News Reporter
Joel Wolcott, a 2004 graduate of Libby High School, had nearly a full year of college course work under his belt before he attended his first class at the University of Montana last fall.
Jake Shaver of Troy High School has 16 college credits to transfer to the same school when he enters as a pre-engineering student in a few months.
Libby High School juniors Brittney Larson and Cassi Myslicki have seven college credits apiece, and plan to add several more during their senior year.
The four ambitious students enrolled in the Running Start program at the Lincoln County Campus of Flathead Valley Community College. By scheduling their time and using discipline, they were able to take high school and college courses simultaneously as well as participate in extra-curricular activities and work part-time.
LCC staff member Jan Meadows coordinates students' registration with their high school counselors, who must approve classes that are chosen. Students who pass them earn high school and college credit.
Meadows acknowledges the program requires sacrifices.
"It's not for everybody," she said.
LCC literature also emphasizes that point, saying the program is designed for high school juniors and seniors with "proven ability to face college level academic challenges and responsibilities."
Those who are motivated enough to succeed save big bucks by not paying college tuition for the classes.
Libby High School students pay tuition of just $10 per credit hour for Running Start courses. That is slated to go up about $4 next academic year.
Shaver's mother works for the college so his tuition was waived.
The cost is much less than in-district students pay at LCC, and even more significantly below the tuition students pay at Montana four-year institutions.
For example, 10 credit hours cost regular in-district students $790 at the Lincoln County Campus during the 2004-2005 academic year. Ten credit hours at the University of Montana cost residents $1,342 while 10 credits for in-state students at Montana State carried a hefty $1,951 price tag, according to online tuition rates for the 2004-2005 school year.
More money is saved because youngsters live at home.
"It's a huge benefit for the parents," said Jerry Wolcott, Joel's father. "When you take those credit hours and apply them to a state school, it almost took a year off.
"I wish my other children had taken advantage of it."
Another benefit, he said, is that Joel was able to pick out courses outside his music major before leaving home.
"He's focusing on music now," Jerry Wolcott said of his son, who will return to campus with late freshman or early sophomore status in September.
Larson plans to enter Montana's School of Journalism in the fall of 2006. Her friend Myslicki will study biology either at Montana or Montana State. Both have passed the required public speaking course and another course that will transfer.
"It was my idea because I'll have to pay for college myself," said Larson, who plays soccer and tennis for Libby High School and writes for the school newspaper. "We wanted to do public speaking in front of 13 people instead of 400."
"We'll have time to take more (LCC) classes next year because we'll be seniors," Myslicki added. She said the program has worked well for her, although some high school teachers have been less than totally supportive of her leaving classes a bit early to attend college courses.
Larson said she enjoys LCC classes because instructors give students more responsibility to arrive on time and do the required work.
"It's more like learning than memorizing," she added.
Shaver completed his high school requirements in January, and has concentrated on piling up college credits since then. He has passed public speaking, a math course, English composition, economics and three computer courses.
Shaver will spend the summer working as a laborer at the Libby Dam, but already has an entire semester of college behind him. Like the other Running Start participants, he recommends the program for other high school students.
"It worked really good," he said.
---