Sylvanite School hosts educational Rendezvous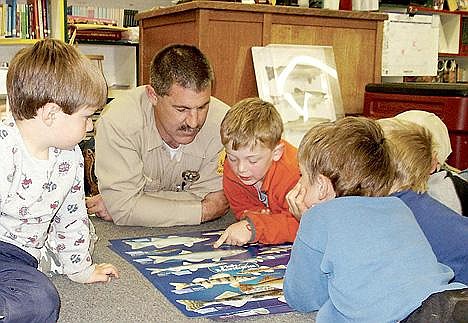 Jon Obst of the Montana Fish, Wildlife and Parks Department listens as a child identifies a fish species.
By STEVE KADEL Western News Reporter
Sitting on Sylvanite School's grassy playground on Friday, Kelly Needs was teaching two girls to make cord from cattail reeds.
Nearby, Luke Collins was in his own mental zone as he used a burning tool to cut designs in a round slice of wood.
Inside the school, Montana Department of Fish, Wildlife and Parks game warden Jon Obst stretched out on the floor with six boys to study a chart of fish species.
The annual Kootenai Forest Rural Schools Rendezvous was in full swing with topics far removed from the three R's. The attention shown by two dozen Sylvanite, Yaak and McCormick school students proved the event a success.
Needs demonstrated the way Breanne Elsberry and Trena Blas should wind the cattail reeds around one another to get the right results.
"It's basically rope," Needs said. "You could use it as a hair tie or whatever you want."
Meanwhile, the fishing crew was learning how to tell one species from another. Obst began by asking the children what makes them different from their friends.
Different kinds of pants, one boy said. Different colors of hair, another said.
"It's the same with fish," Obst replied. "These are two different kinds of fish and we give them different names."
The warden pointed to the poster for an example.
"Look at that tail and look at that tail," he said. "Tell me what's different."
After a few guesses, Obst said, "If it's got crooked lines it's a brook trout. Brookie crooky."
He asked the youngsters to say the phrase and they responded in unison, "Brookie crooky."
Fish also played a role in Thursday's
opening session of the rendezvous. John Cloninger and Jan Thon of the Kalispell-based Hooked on Fishing, Not on Drugs children's program brought plenty of trout, perch and salmon. They taught the kids to fillet fish, and rewarded them with a big fish fry.
"The girls did most of the filleting," Cloninger said. "I was really impressed. We taught how to skin them, and you can't believe all the fish they ate."
Kala Marie Myers, 9, was working on an art project nearby. When she heard Cloninger mention the feast, she piped up, "We're kids. We'll eat anything you put in front of us."
Her willing attitude seemed to sum up the entire rendezvous, which was a chance for students to try their hand at all kinds of new things. They made potato presses and soap, and learned about Dutch oven cooking as well as quill jewelry-making and spinning.
Thursday's highlight was a demonstration of dancing and drumming by some Kootenan-Salish tribe members. After a long first day, the youngsters climbed into tents on the school grounds and camped overnight, eager to awaken at 7:30 the next morning for breakfast and the Pledge of Allegiance
---