These students enter workforce ready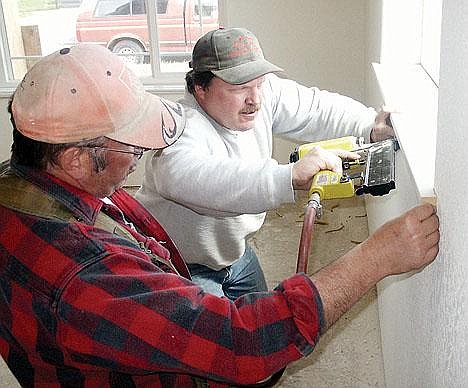 Jesse Nixon holds trim in place while Dan Ellsworth uses a nail gun during construction of a student-built house.
By STEVE KADEL Western News Reporter
Jesse Nixon, Dan Ellsworth and several other Lincoln County Campus students would need a giant briefcase to carry around their latest resume item.
They'll graduate this spring from Flathead Valley Community College's two-year building trades program. When they talk with potential employers, they can point to the 1,400-square-foot home they built at the corner of Utah Avenue and Larch Street in Libby during the past year.
Students under the direction of instructor Jerry Marquez did everything on the three-bedroom, two-bath home from initial cement work to final trim installation. The state-certified Energy Star house will be completed within days, and is on the real estate market with a $120,000 price tag.
Nixon and Ellsworth are former Libby mill workers. When the mill closed, they sought new career directions and the local campus had just what they wanted.
Both men are looking forward to second careers in construction. In fact, Ellsworth already works part-time for Westlund Construction.
"I'd like to someday build my own home," Ellsworth added.
Another dozen students will graduate this month with building trades degrees while seven more will receive one-year building trades associate certification.
That's up from three degree grads and two certificate grads during the past two years.
The basic courses are similar for both programs. Those include math and communications for trades, introduction to microcomputers, and a pair of construction project management classes.
The two-year track adds such things as human relations in business, entrepreneurship/small business start-up, business planning and business law.
The building trades program began at the college's Kalispell campus. It expanded to the Lincoln County Campus three years ago through a $40,000 loan from the Libby Area Development Co.
Money from the sale of houses goes back into the program to help pay expenses. The house that students built last year is located next to the current project, and sold for $90,000.
Marquez, who has more than 20 years' experience in construction, joked with some students as they worked Friday afternoon.
"I got these guys who couldn't do diddly two years ago," he said. "Our goal is to get them employed."
---