Logger Days celebration begins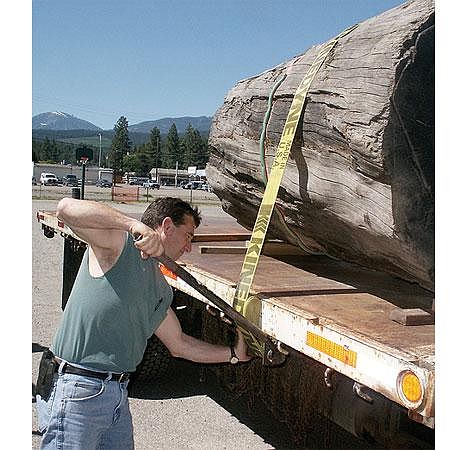 Jerry Bennett unstraps the log that will be used for Logger Days' Bull and Bullette of the Woods contests from a truck that hauled it from its storage site to the Logger Days grounds near the corner of Lincoln Boulevard and Mineral Avenue.
Libby's annual Logger Days celebration is June 23-25.
The Kootenai Kiwanis took over organization of the event last year and moved it back downtown after several years at J. Neils Memorial County Park. Following on last year's success, Logger Days will again be held at the corner of Mineral Avenue and Lincoln Boulevard, near the Memorial Center.
The special honoree at this year's event will be Bill Crismore, who will be grand marshal of the Logger Days parade. Bill and his wife, Carol, started Crismore Logging in 1972. When they first started, there were only two employees. Bill did all the sawing and Ray Munro skidded all the logs. Crismore Logging continued growing, as did the logging industry, and when the company hit its high point in the 1980s, they employed approximately 30 men. As logging started to decline, they branched out into road maintenance and road construction. In 1994, Bill was elected Montana state senator and served in Helena for eight years. In May 2005, Bill and Carol sold the business to their son Stu and his wife Rhea and are enjoying their retirement.
The Logger Days celebration gets started on Thursday, June 23, with the water fight. The junior water fight starts at 5:30 p.m. with the adult event scheduled for 7.
The melodrama "Pony Expresso" will debut Thursday at 7 p.m. as well, with additional shows scheduled for 7 p.m. on Friday and at both 2 and 7 p.m. on Saturday.
Food booths, merchant displays, the beer garden and amusements will open at 5:30 p.m. on Friday. Musical entertainment by Bryan Lloyd is scheduled for 6 p.m.
The Bull and Bullette of the Woods contests, in which competitors don boxing gloves and try to knock their opponents off a giant log, will start at 7 p.m. on Friday. The lip sync contest will follow the Bull and Bullette of the Woods at around 9 p.m.
Events start at 9 a.m. on Saturday with a children's ping pong drop. The Logger Days Parade is scheduled for 10 a.m.,
with food booths and merchant displays opening after the parade at 11 a.m.
Children's events, children's logging events, carnival games and amusements will start at noon on Saturday. The beer garden will also open at noon.
Adult logging events are scheduled to start at 2 p.m. on Saturday. Events include the ax throw, peevee log roll, men's single buck and double buck sawing, doughnut stacking, the Ma and Pa relay, the vertical and horizontal chop, women's double buck, Jack and Jill double buck, choker setting and a new competition for this year, stock chain saw.
Bryan Lloyd will provide musical entertainment again on Saturday evening, starting at 7. A street dance, sponsored by the Pastime Bar, will start at 9 p.m. with music by Out on Bail.
---