Woodstove program kicks off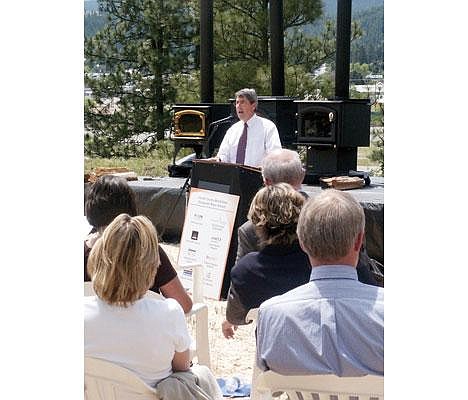 Montana Department of Environmental Quality director Richard Opper speaks during an event held last week in Libby to kick off a woodstove changeout program.
By BRENT SHRUM Western News Reporter
A program to replace old, dirty-burning woodstoves with new, more efficient models was hailed as a model for public-private partnerships during a kickoff event last week in Libby.
The event was attended by Gov. Brian Schweitzer along with a number of other state and federal officials and representatives of the Heart, Patio and Barbecue Association, an industry group that has contributed more than $1 million toward the effort to improve Libby's air quality through woodstove replacement.
HPBA president Carter Keithley explained at Thursday's event how the industry worked alongside the federal Environmental Protection Agency to develop cleaner stoves, but many of the older, dirtier stoves remain in use.
"They were built like tanks," he said. "They're running just fine, thank you very much."
Air quality problems in Libby — linked to smoke from woodstoves — have been complicated by economic factors that make it less likely that the older stoves will be replaced voluntarily by their owners, Keithley acknowledged. The Libby changeout program will demonstrate the benefits of converting to cleaner stoves "in an environment that's not complicated by other air pollution sources," he said. "It's wood
smoke."
The changeout program comes in response to the listing of the Libby area last December as a non-attainment area under new federal air quality standards governing smaller particles, known as PM-2.5, than previous PM-10 standards. Federal law requires a control plan to be adopted within three years.
The program consists of two phases, with this year's efforts focusing on low-income households. The HPBA has donated 300 stoves that will be available at no cost — including installation — to households qualifying for public assistance. Next year, the program will turn to the estimated 900 to 1,200 non-certified stoves in households not meeting the low-income criteria for this year's program. The amount of cost, if any, to be passed along to the homeowner will depend on the level of funding obtained from grants, federal appropriations and other sources.
The changeout is a demonstration of what can be accomplished when local, state and federal governments work together with private industry and organizations, EPA regional director Robbie Roberts said during last week's gathering in Libby. The EPA wants to be part of the solution, added Steve Page, director of the agency's North Carolina-based Office of Air Quality Planning and Standards.
"We're not just pointing and saying there's a problem and standing back," Page said.
What's learned in Libby will be used in other areas with woodsmoke problems across the country, Page said.
"I think in coming years many of us will reflect on this project as one of the most satisfying things we've done professionally," he said.
Libby is becoming known as a place where the people face up to their problems, said Montana Department of Environmental Quality director Richard Opper.
"That's a wonderful, well-deserved reputation you have," he said.
Representatives of U.S. Rep. Denny Rehberg and U.S. Senators Conrad Burns and Max Baucus were on hand at the event to express the support of Montana's congressional delegation. Burns representative Denise Smith noted that Burns managed to include $1 million for the Libby changeout into legislation that recently passed a Senate appropriations subcommittee, and Baucus aide Rebecca Manna announced that Baucus is sponsoring a $500 tax credit for stove replacement in an energy tax incentive package that passed the Senate Finance Committee on Thursday morning.
Schweitzer thanked participants in the changeout program for their cooperation and reminded industry representatives present at the event to take back to their companies a message that Montana is also a great place to manufacture woodstoves.
"Montana means business," Schweitzer said.
Thursday's kickoff event was followed on Saturday by a stove fair at the Memorial Center that was attended by more than 100 families and individuals. More than 80 applications for new stoves were completed by people meeting eligibility criteria, said county sanitarian Ron Anderson.
"We kind of considered that as very workable," Anderson said.
With 300 stoves to give away, the county will be turning its attention to outreach efforts to ensure the success of the changeout, Anderson said.
"We'll probably start very, very soon," he said.
---