Flower baskets mark beginning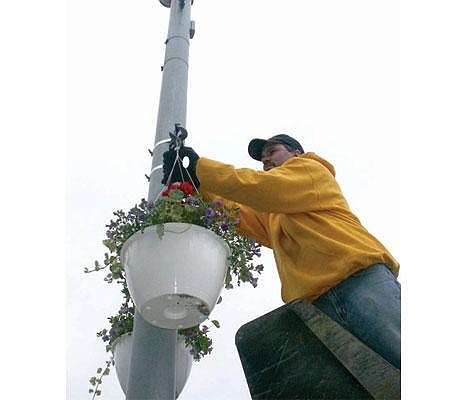 City of Libby employee Jeff Best secures a hanging flower basket to a Mineral Avenue light pole Tuesday for the downtown beautification project.
By STEVE KADEL Western News Reporter
They're only hanging flower baskets, but to those supporting the proposed Streetscape plan for downtown Libby they represent much more.
The 53 baskets that were hung this week from Mineral Avenue light poles signify the first step toward a new look for the city's retail core.
"It's visible, it's tangible, and it's not expensive," said Betty Jo Wood of Libby Revitalization Inc., which purchased the flowers and is spearheading the upgrade.
As envisioned by consultants who wrote a 70-page draft plan, Streetscape would turn Mineral Avenue into a pedestrian-oriented setting with rows of trees, attractive lighting fixtures, benches and bike racks. The idea is to attract more people and, ultimately, more economic activity.
Local residents got an overview of the plan during an April meeting. Now details are available online by going to www.libbychamber.org or www.lincolncountylibraries.com/masterplan.
Citizens are encouraged to study the plan and send opinions about what they like or don't like to Lorraine Roach at lroach@thrgroup.com . Comments received by June 25 will be incorporated into the final master plan.
"We want people to look at the plan online and get educated," Wood said. "You don't need to be affiliated with a group. We want the community to be aware and give feedback."
Some of the improvements are slated to be made this year. Others stretch through 2009. Wood said fund-raising for the expensive pieces of the plan will begin as soon as the community agrees on a final master plan.
"We want the city (council) to formally adopt this," she said.
Potential grant money is available from federal sources, foundations and corporations, Wood said.
"Most of them do require a match and we'll need the community's support behind us to get the full amount," she said.
The Lincoln County Community Foundation gave $1,000 last year for development of the master plan. Libby Revitalization recently received a $2,500 grant from the Montana Department of Natural Resources and Conservation for the same purpose.
The next step that people will notice this summer is called "adopt-a-window," Wood added. That calls for local merchants to volunteer to decorate windows of vacant stores.
The draft plan's timeline also includes developing and adopting design guidelines for downtown Libby during 2005. That doesn't mean requiring every storefront to use the same colors or adhere to a theme, Wood cautioned.
"We don't want anything 'themey' at all," she said. "We're encouraging palettes of color, certain types of surface materials such as stone, fabric awnings, and signs that are about the same size."
Council action would be needed for another component of the plan that requires zero setbacks on new development along Mineral and California avenues. That code change is targeted for completion this year.
Another code refinement to allow upper story or backstreet residential use in downtown buildings is slated for action in 2006.
Streetscape improvements are proposed on Mineral Avenue from U.S. Highway 2 to Eighth Street. Costs for landscaping, intersection renovation and other items such as mid-block crossings were divided by consultants into three tiers of development totaling $4.8 million. Items included in each tier, however, can be chosen or rejected to give the plan a cafeteria-like quality.
Other phased projects involving the train depot, high school amphitheater park, and medians on Second Street from Mineral to California have an estimated cost of just under $2.8 million. The grand-total for all projects, if the community choses to include them in the package, would be $7,650,500, according to consultants.
A non-scientific poll on the Western News' Web site shows backing for Streetscape. Asked whether they support the street improvement proposal for Mineral Avenue, 55 percent of 573 people who had responded as of Wednesday afternoon said "yes" and 45 percent said "no."
Wood noted the development would benefit the city as well as individual merchants.
"It will increase the tax base of Libby because of improvement that will be done," she said.
The draft master plan will only be available for viewing on Web sites for the next two weeks. Wood said it's important to move the project along quickly to meet the scheduled goals.
"They gave us all the steps with this plan," she said. "Now it's up to us as a community to take action. I want this plan hung on walls so people can look at the timeline and say, 'OK, we need to work on this right now.'
"It's visual that way. It's an actual working plan instead of sitting on a shelf."
---