Paperwork limits practice burns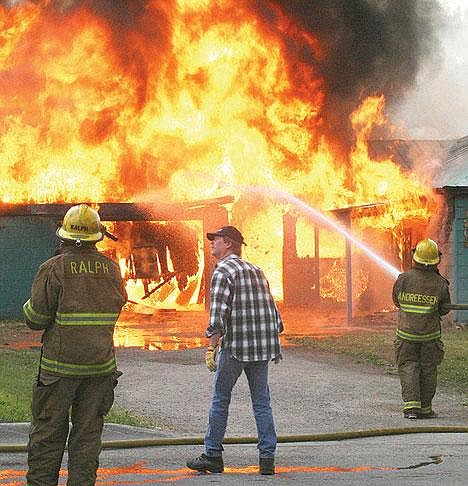 Libby volunteer firefighters, under the direction of Curt Jones, work on a practice house fire at 1202 Idaho on Thursday night. With Jones are Chris Ralph and Ryan Andreessen.
By STEVE KADEL Western News Reporter
Last week's practice burn by Libby Volunteer Fire Department and another in February were the first such training exercises here in at least a decade, according to assistant fire marshal Steve Lauer.
Part of the reason is the exhaustive amount of paperwork required for permits. A bigger factor, however, is that the department only holds such burns when the structure provides good training opportunities.
"It has to have an educational training objective," said Lauer, who also serves as training captain.
The June 9 blaze at 1202 Idaho Ave. allowed six firefighters to conduct interior training exercises. It also allowed practice in ventilation tactics, used to determine the best way to enter a burning building and the fastest way to knock down flames.
Exposure training and command operations training also were conducted.
Burning the house owned by firefighter Scott Beagle served as a much-needed classroom, although Lauer and fire chief Tom Wood also acknowledge the operation's downside.
"Is there toxic smoke going into the air? Yes," said Lauer. "There's just no way around it."
"We don't like polluting the air, but sometimes you have to do it to get some practice," Wood added.
Both officials emphasized that no asbestos was in the building when it burned to the ground. Wood said the homeowner must pay for a certified inspector to investigate for asbestos and remove any that is found before practice burns.
It's not just a matter of Zonolite, Lauer noted. Ceiling tiles and floor tiles may contain asbestos, too, although a different kind.
The entire permitting process to burn a house begins with a public notice. In Libby fire department's case, an advertisement is placed in The Western News.
The project can be scrapped if there's sufficient public protest, Lauer said. In fact, the Feb. 23 practice session was intended to totally burn the structure, but a neighbor objected so it became a limited burn.
Residents in the immediate neighborhood are notified of the burn's date and time days before it is held.
Besides applying for an air quality permit from the state Department of Environmental Quality, the fire department also must get approval from Lincoln County air quality specialist Kendra Lind.
That includes checking with her the day of the burn to see if atmospheric conditions are okay to proceed. Lind checks data bases maintained by weather forecasting agencies and professional meteorologists to make a decision.
If there's a chance of inversion, the burn is postponed.
"I do have the ability to say, 'No, we should not have to be doing this,'" Lind said.
She called last week's burn a success, with smoke clearing out of the area quickly.
All the environmental precautions have added to the work of setting up live training exercises. Lauer understands the need for such considerations, and he wants the public to realize how important it is to hold an occasional burn.
"It's some of the best training we can do," he said. "We cover our bases."
---