LA rescuers join river search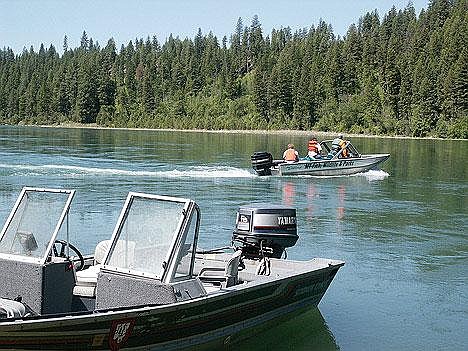 A boat heads out onto the Kootenai River below Kootenai Falls during efforts to locate the body of a 20-year-old man missing since jumping into the water near the swinging bridge last Wednesday.
Efforts to find the body of a 20-year-old man missing in the Kootenai River since May 25 continued this week, aided by 17 California fire and rescue workers volunteering their time to help the victim's family.
Sean Branch, who recently moved to Libby, disappeared in the swift-flowing river below Kootenai Falls after jumping in near the swinging bridge around 2 p.m. last Wednesday. He was with several friends at the time and was planning to swim, said Lincoln County Sheriff Daryl Anderson.
The sheriff's office was notified of the incident by cell phone. LCSO officers responded to the scene along with personnel from David Thompson Search and Rescue, Troy Volunteer Ambulance, the U.S. Forest Service, Montana Fish, Wildlife and Parks and the Alert medical helicopter service from Kalispell.
Branch's father is an officer with a fire department in Anaheim, Calif., Anderson said. Since last Wednesday, 17 fire and rescue workers from California have taken time off to volunteer their services in the search effort.
"They've been real good to work with," he said.
High flows in the river have complicated search efforts, Anderson said. Releases from Libby Dam were at a hefty 25,000 cubic feet per second - up from 4,000 to 5,000 cfs a week before - when Branch jumped into the river. Flows have since been throttled back somewhat but were still running at around 17,000 cfs early this week.
---