No headline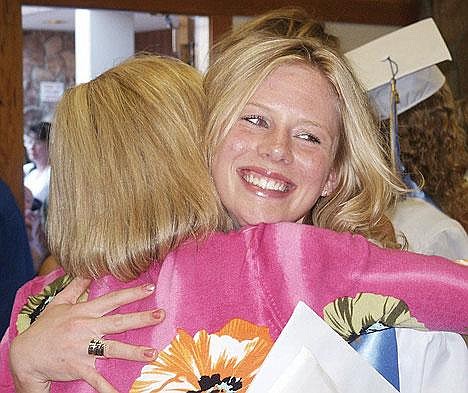 Carly Maloney beams while hugging her aunt Jackie Potkulski of Georgia minutes after Libby High School's graduation ceremonies Sunday. Maloney graduated with high honors.
LHS grads take that 'first step'
Libby High School's seniors took their first step into what one speaker called "the real world" Sunday with a graduation sendoff that was partly sentimental and partly youthful high jinks.
Classmates and a teacher took the podium to recall past adventures, and talk hopefully about new paths and challenges. Some of the friends and family members who packed the school gymnasium shed a tear or two, while others captured the event with cameras or video recorders.
Seniors walked in solemnly to the music of "Pomp and Circumstance." They sat patiently in blue gowns and listened to three co-valedictorians and the commencement speaker.
More than an hour later, after flipping their mortarboard tassels from left to right, they indulged in a few moments of childish fun by spraying one another with blasts of Crazy String.
Congratulations, Class of 2005.
Hugs and more photos were given and taken outside the gym. Graduate Carly Maloney embraced her aunt, Jackie Potkulski, who had traveled from Georgia to see her niece walk across the stage.
The crush of celebrants spilled outside into glorious sunshine, with everyone taking their time before leaving in small groups.
"I'm going to miss everyone here," co-valedictorian Peter Mason had said earlier from the podium.
"I'm excited, a little apprehensive," added Rachel Reckin, another valedictorian.
She challenged her classmates to "move confidently in the direction of your dreams. The question is not whether we are ready for the world, but whether the world is ready for us."
Co-valedictorian Kevin Mason used beach balls and a plastic bat to make his point.
He gave a timid swat to the first ball and it bobbed softly off the stage. Then he reached for another beach ball, clubbing it with abandon and sending it rocketing into the first row of spectators.
"If you want to affect the world, you have to follow through," Mason said. "We should be pursing our goals with no hesitation."
Students chose retiring teacher Rose Goyen as commencement speaker. She got a standing ovation as she stood up to speak.
Goyen said she, like the graduates, is embarking on a new journey.
"Even though my bunny hop has turned to a bunny shuffle, I keep easing on down the road," she said.
"Thanks for teaching me all year. Because of you it has been a splendiferous trip."
---