New signs placed on city streets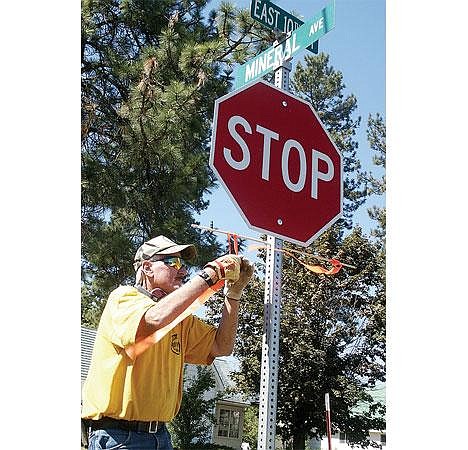 City worker Bob Moore ties a ribbon to a new stop sign at the corner of 10th Street and Mineral Avenue.
Libby city crews were busy this week installing new stop signs at intersections across town.
The sign installations are part of a plan adopted by the city council in June to make Main Avenue, 10th Street and Cedar Street through streets with stop signs on streets that cross them.
Exceptions were made for existing stop signs on Main Avenue near the post office and at U.S. Highway 2 and on 10th and Cedar streets at Louisiana Avenue.
The plan is based on a proposal submitted by driver education instructor Dan Mueller at the request of the council. Mueller had approached the council with a similar plan several years ago, but the plan was not adopted by the city at that time.
Installation of the new signs was expected to be finished by the end of the week except for some areas along Cedar Street where the roadway has been torn up by the city's sewer and water project in the Johnson Acres neighborhood.
Police Chief Clay Coker told the city council last month that he thinks the plan is a good start toward reducing the number of traffic accidents resulting from uncontrolled intersections. He said he would like to see all intersections in the city controlled but doesn't expect to see that happen because of the cost involved.
---