Hospital absorbs 11 mill workers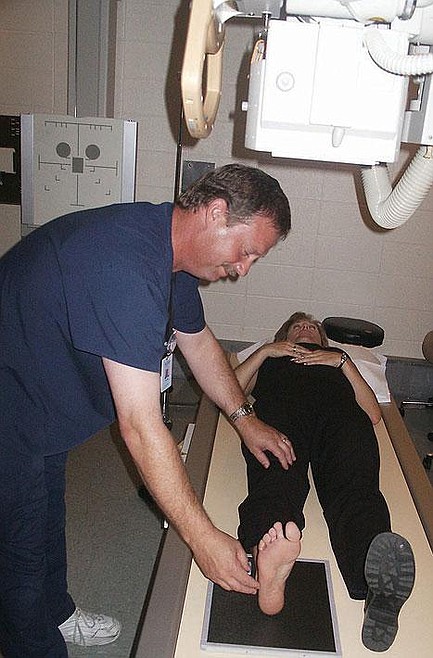 X-ray technology student Frank Lucas positions a patient for an ankle X-ray at St. John's Lutheran Hospital.
By STEVE KADEL Western News Reporter
Eleven former Stimson Mill employees have traded their rough-hewn careers for new ones with St. John's Lutheran Hospital — a mill-to-medicine transition.
The change of direction was abrupt when the mill's closure was announced in the winter of 2002, but retraining money through the Federal Trade Readjustment Act and opportunities provided by St. John's were a lifeline for many laid off workers.
Several now believe the change was a blessing in disguise.
"We've found a future in careers that are challenging but at the same time give us a sense of self-worth knowing that we are part of the healing process," said Mark Kroll, a former Stimson worker.
Kroll, 52, is manager of the hospital's health information management department, or medical records. His training took two years — an exact fit with the timeline for federal retraining benefits — and he volunteered at St. John's for two years before being hired, helping him gain the hands-on knowledge necessary in his field.
There was plenty of apprehension when life at Stimson ended. Kroll was 10 to 15 years from retirement, and figured he would spend the rest of his working life at the mill.
"None of us knew where we'd be, whether to sell the house," he said. "The last two months, everybody was in limbo."
He recalled the days when everyone in the household was a student. That included Kroll, his wife Carol, and their two school-age children. Instead of watching television at night, the Kroll family cracked the books.
He was hired at St. John's in September 2004, and mixed professional work at the hospital with the final months of college work.
"That was the toughest time of my life — the last two months of school," Kroll said. "Everybody at St. John's was very supportive."
Frank Lucas, 47, is an X-ray technology student at Apollo College in Spokane. He's been training at St. John's for the last two months of his clinical rotation. Lucas is thankful for the training opportunity that St. John's has given him.
"Some hospitals don't accept trainees because of the time and money it takes to supervise students," he said. "But the Imaging Department here at the hospital has been just great."
St. John's has been a training site for more than five years, helping students find their niche in the medical field.
Lucas believes the change from mill work suits his personality.
"I have deep compassion for people who are hurting," he said.
He's enjoyed the atmosphere at St. John's, especially compared with the larger hospital where he previously trained. Although high stress is inevitable in health care positions, Lucas said the atmosphere at St. John's is light and friendly.
"The folks I work with all have the same compassion to heal that I do, and that makes for a very positive experience," he said.
Lucas' wife, Chari, is the manager at Lincoln County Credit Union, and his 20 months of course work at Apollo kept them apart before joining St. John's.
"It was a long road being a weekend husband for a year and a half," he said. "It was a relief to be able to complete my clinical rotation in my home town, by my family, at a hospital I have relied on for 47 years."
The former dryer tender relief foreman on Stimson's green chain will be job hunting soon. He hopes something opens up at St. John's.
Hospital spokeswoman K.C. Hoyer hopes so, too. She is happy that St. John's has played a role in providing displaced workers with good jobs.
"We're keeping families together at home," Hoyer said.
---