Libby stove changeouts move ahead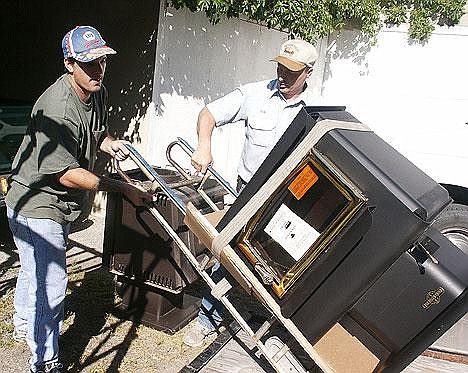 Ken Redifer and Bob Kehn of Alpine Heating & Cooling prepare to install a new woodstove to replace an older, dirtier stove as part of Libby's woodstove changeout program.
By BRENT SHRUM Western News Reporter
Libby's woodstove changeout program is moving ahead with the first of what project organizers hope to be 300 stove replacements completed this week.
With stoves, related equipment and cash donated by the Hearth, Patio and Barbecue Association, the program is aimed at improving local air quality by replacing old, inefficient woodstoves with new, cleaner models. The trade association provided 300 stoves for the program. They are available at no cost to households qualifying for the Low Income Energy Assistance Program and other public assistance programs. Next year, the second phase of the program will focus on the estimated 900 to 1,200 non-certified stoves in households not meeting the low-income criteria for phase one. The amount of cost, if any, to be passed along to the homeowner will depend on the level of funding obtained from grants, federal appropriations and other sources.
The program kicked off with a stove fair at the Memorial Center in June. There, potential participants were able to see examples of available stoves, make a selection after receiving guidance on which models would be best for their needs, and submit a formal application for stove replacement.
About 90 applications have been received. The first changeout was completed on Wednesday.
"I'm excited," said program coordinator Jerry Marquez as the new stove was being installed. "I want to leave now. I want to go schedule like 10 more."
Marquez said he had completed about 30 home visits and had 10 to 20 changeouts ready for scheduling. The stoves will be installed by local dealers familiar with the various models.
County sanitarian Ron Anderson, who helped organize the changeout program, is encouraging potential applicants to sign up soon.
"At some point we anticipate we're going to end up with more applicants than we have stoves," he said.
Before applying, candidates for a new stove should secure proof of eligibility for LIEAP or public assistance programs, Anderson said. More information is available by calling 293-7781 extension 212 or emailing jmarquez@libby.org .
"We want to make sure people understand that this is a golden opportunity to upgrade their stove before it becomes mandatory," Anderson said.
The changeout program was developed following the listing of the Libby area last December as a non-attainment area under new federal air quality standards governing smaller particles, known as PM-2.5, than previous PM-10 standards. Federal law requires a control plan to be adopted within three years.
Studies have shown the primary component in local PM-2.5 pollution to be from woodstoves. In supporting the changeout program, HPBA representatives have said the project will serve as a demonstration of the benefits of converting to cleaner stoves in an environment not complicated by other sources of air pollution sources.
The federal Environmental Protection Agency has been supportive of the program, noting that what is learned in Libby will be used in other areas with woodsmoke problems across the country.
---