Officials hail 'back nine' groundbreaking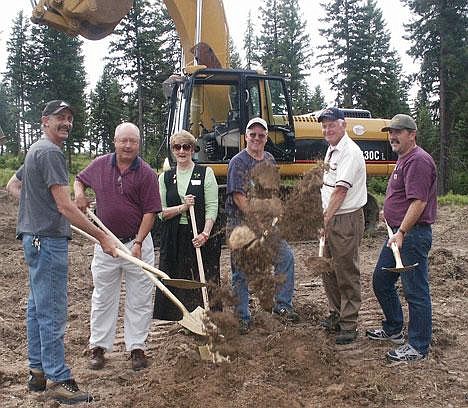 Dirt flies as officials celebrate the upcoming construction of nine new holes at Cabinet View Country Club. From left are Libby City Councilman Wally McElmurry, Lincoln County Commissioners John Konzen and Marianne Roose, Libby City Councilman Gary Huntsberger, Cabinet Valley Country Club board member Wayne Haines, and Libby City Councilman Stu Crismore.
By STEVE KADEL Western News Reporter
Libby and Lincoln County government officials hailed the economic benefits of expanding Cabinet View Country Club as they hefted ceremonial shovels of dirt Wednesday to mark construction of the course's second nine holes.
The project, in the planning stage for more than 20 years, appears headed to fruition.
"We're all happy it's finally here," said Gene Chappell, chairman of the golf course's board of directors. "It's going to be a great asset to the community for economic development."
The course's back nine should be playable by 2007, he added. After that, construction of homes along the new fairways will begin. The 115 lots will be sold in five phases, and prices have not yet been determined.
"We're not sure if we (CVCC) will develop them or if someone else will come in and do it," said Wayne Haines, a member of the Cabinet View board.
He's hopeful the city will provide water and sewer hookups to the home sites, although acknowledging "there are no promises." Annexation by the city is a long-range possibility.
"Our city and county government people have been wonderful in supporting us so far," Haines said.
A $1.5 million, no-interest loan from the former Libby Area Development Co. made the project possible, he added. Cabinet View plans to repay the loan through the sale of residential lots.
"You can't have a more secure loan," said Paul Rumelhart, who helped arrange the financial package. "It's land."
Haines said courses elsewhere have reported that the number of rounds played annually triples rather than doubles when a nine-hole course becomes 18 holes. Another feature of the new holes will pay off as well, Cabinet View officials believe.
"Most courses around here are flat ground," Haines said. "This course is going to be unique compared with others in the Northwest because of its contour."
The upcoming No. 14 hole, a par three, will feature a blind shot from the tee box to the flag due to elevation variance. Another new hole will have a view of the Cabinets behind an elevated green.
"That'll be our signature hole," CVCC board member Dann Rohrer said.
Lincoln County Commissioners took a moment to comment on the expansion. Marianne Roose of Eureka said she was envious and happy for Libby because golf courses are "a wonderful investment in a community." She said she hopes Eureka and Troy eventually get courses, too.
John Konzen of Troy was brief, saying only, "You guys have an eagle for your community. This is as good as a hole-in-one."
Rita Windom couldn't attend because of a hospital appointment. However, she supplied a written statement that said, "The benefit for tourism and for retirees to move here is huge."
Libby City Council member Stu Crismore added, "This is going to change our community. Thanks to the current board for your work, and for the courage to make this happen."
Then it was time for action. Libby council members Wally McElmurry and Gary Huntsberger, and commissioners Konzen and Roose joined Haines in picking up a shovel of dirt on the site of a new fairway.
Huntsberger showed his golfing prowess by using the gold-painted shovel like a large wedge, throwing dirt into the air in the symbolic first blast from a sand trap.
---