Bronze Medal awarded to slain Marine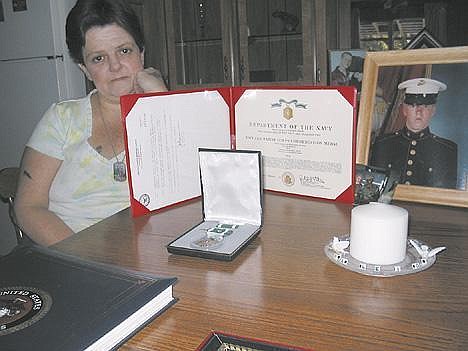 Gail Smith sits beside the Navy's Bronze Medal of Valor and other reminders of her son, Marine Cpl. Raleigh Smith, in the family home in Troy. Smith died two months ago during an insurgent ambush in Iraq.
|
February 22, 2005 11:00 PM
By STEVE KADEL Western News Reporter
Two months after her son died in Iraq, Gail Smith of Troy still cries most days and has trouble sleeping.
She keeps the young Marine's memory alive with a photo of him in uniform, the Purple Heart he was
awarded, and other military mementos arranged carefully in a cabinet in her dining room.
The collection grew this month when Cpl. Raleigh Smith was honored posthumously with the Bronze
Medal for Valor. It was issued by the government Feb. 9 and arrived in Troy last week.
Smith, a 2002 Troy High School graduate, had just turned 21 when he was shot and killed during an
insurgent ambush of his platoon Dec. 23, 2004, in Fallujia.
Richard Natonski, major general of the U.S. Marine Corps, said in a commendation that Smith and other
Marines were searching for enemy weapons and ammunition caches when gunfire broke out.
"He steadfastly engaged multiple targets as they emerged from closets all around the room," Natonski
wrote. "Corporal Smith's deadly accuracy with his service rifle and his courageous disregard for his own
safety enabled the remainder of his team to escape the kill zone as enemy grenades exploded in and
amongst them.
"His brave actions preserved their lives as he sacrificed his own. Corporal Smith's initiative,
perseverance and total dedication to duty reflected credit upon him and were in keeping with the highest
traditions of the Marine Corps and the United States Naval Service."
The document added, "It is with deepest sorrow that this award is forwarded for presentation to Mrs.
Frances G. Smith."
Hal Cole, senior vice commander of the Veterans of Foreign Wars in Libby, said the Navy's Bronze
Medal for Valor is a high-ranking award.
"It's a prestigious medal," he said.
Although she appreciates the medal and commendation, Gail Smith said Monday they provide little
solace for the loss of her son. The government told her Smith was shot three times, with one bullet entering
through his armpit and striking his heart, she said. Two other U.S. soldiers were killed in ambush, and
Smith said one of them bled to death after being shot in the stomach.
"It made me feel better that mine probably went instantly," she said.
Raleigh e-mailed his mother three days before his death. He told her his team had just reached Fallujia
and the city "was like a ghost town," his mother recalled.
Smith said her son was depressed after returning home from Iraq briefly last August.
"He'd never talk to me about the nightmares he was having," she said. "He absolutely did not want to go
back."
Smith advised her son to think of his return as a way to help his fellow Marines. Looking back, she
would give a different message if she had the chance.
"I'd tell him to run for the hills," said Smith. "I don't think we should be there."
Neither Raleigh or brother Ramsey Smith supported the war, she said, but Raleigh enlisted to get the G.I.
Bill and pursue his dream of becoming a history teacher.
Ramsey Smith is currently at the Marines' Camp Lejeune in North Carolina awaiting orders to ship out
to Egypt. Gail Smith said he feels a sense of duty to the other Marines with whom he's served for three
years.
She said Ramsey's wife is from a Marine family, and her uncle is a top officer. He has given assurance
that Ramsey won't return to Iraq, Smith said.
Previously, she lobbied Montana's congressional delegation to keep him in the U.S. She even wrote to
President Bush, but to no avail.
Smith is thankful Ramsey is bound for Egypt instead of Iraq. However, she said Ramsey "is lost" over
the death of his brother.
Smith covets a video that Ryan Jellesed of Troy put together to honor Raleigh. It shows him as an 8-
month-old child sitting on a tricycle, acting goofy with friends in Troy as a teenager, and at Camp Lejeune
the night before going to Iraq. The images are accompanied by "Tears in Heaven" by Eric Clapton.
The tape carries the dedication, "For Raleigh and all those who have fallen."
Smith says she can't keep from crying while watching. She played the video for a visitor this week, and
tears fell again.
She knows that time will ease the pain, but reminders of Raleigh keep popping up unexpectedly. Just the
other day, for instance, his clothes arrived back home in the mail.
"I don't think this is a wound that heals," his mother said. "It's just one you learn to cope with."
---