Fire destroys garage on Christmas Eve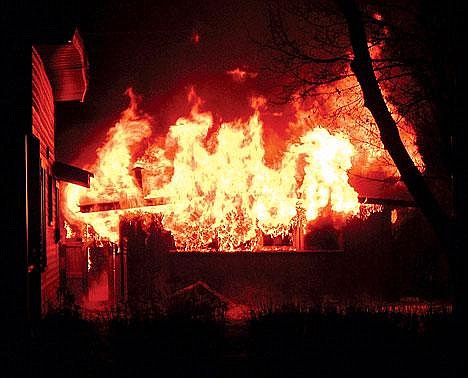 An old garage behind the house at 1119 Dakota was fully engulfed in flames when firefighters arrived on Christmas Eve. (Photo by Brian Sherry)
|
December 27, 2005 11:00 PM
A Christmas Eve fire in Libby that destroyed a garage and its contents may have been started by a wood-burning device, according to one fire department official.
The investigation into the cause of the fire at 1119 Dakota Ave. is continuing, said assistant fire marshall Steve Lauer, but a wood-burning device had been in use at the time of the fire.
The building was fully engulfed when two engines from the Libby Volunteer Fire Department arrived, he said. The fire was reported at 6:59 p.m.
"A gentleman was using the garage for wood-working projects and was drying wood using the stove, so there was a lot of dry wood laying around," Lauer said. The garage was owned by Nicole Watson, who lives in the nearby house.
"It was an older building, wide open with no sheet rock in it," Lauer continued. "It went pretty fast."
Fifteen volunteer firefighters responded to the fire call and kept the blaze confined to the garage.
---