Area vehicles stolen and wrecked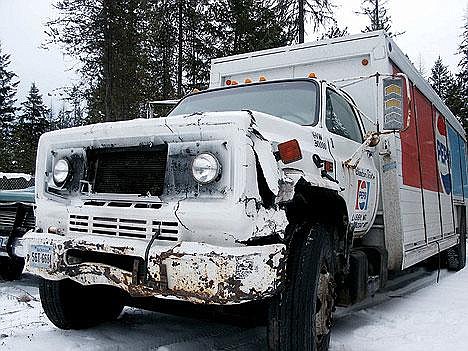 Windom Distributing's Pepsi delivery truck was stolen and wrecked over the weekend along with at least two other trucks.
|
December 20, 2005 11:00 PM
Three stolen vehicles were recovered along Lower Granite Creek Road Saturday after the thieves apparently used them for an impromptu demolition derby.
One of the vehicles, a pickup truck, was reported stolen from a residence along Vicks Lane around 1:45 a.m. Saturday. It was found by a sheriff's deputy around 4 a.m. along with another pickup later determined to have been stolen from the Libby High School parking lot and a delivery truck taken from the Windom Distributing warehouse, said Detective Darren Short of the Lincoln County Sheriff's Office. All three vehicles were heavily damaged.
"They basically had their own demolition derby," Short said.
The delivery truck had gotten stuck in a ditch, and the accelerator was jammed so the vehicle was still running, wheels spinning, when it was found, Short said.
The truck stolen from the LHS lot had apparently been rammed into another vehicle in the lot when it was stolen, and a third vehicle at the high school was kicked numerous times and suffered body damage as well, Short said. All three vehicles belonged to students who were out of town at a wrestling tournament, he said.
The investigation into the incident is continuing, Short said.
---