USFS sees canine patrol demonstration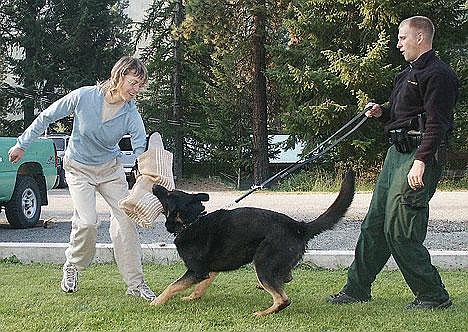 Cody sinks his teeth into a training vest worn by Canoe Gulch wildlife biologist Jenny Holifield as Hungry Horse Ranger District law enforcement officer Brad Treat restrains the K-9.
|
August 19, 2005 12:00 AM
By STEVE KADEL Western News Reporter
Cody was bristling for action Tuesday morning.
The sun had barely climbed over a ridge east of Canoe Gulch ranger station, and several employees stood outside drinking coffee to help wake themselves up. Meanwhile, their U.S. Forest Service co-worker paced the grounds impatiently, just busting to get started.
"He knows he's going to get to bite somebody soon," Brad Treat said.
Treat is law enforcement officer for the Hungry Horse Ranger District. He brought Cody to Canoe Gulch to demonstrate the 5-year-old German shepherd's talent for finding hidden drugs and wrestling with bad guys.
This time, the "bad girl" was volunteer Jenny Holifield, a wildlife biologist. She stuck her left arm into a padded training sleeve and stepped forward.
"It's pretty safe," Treat assured her.
With a strong grip on Cody's leash, Treat gave a command in German and the animal rocketed toward Holifield, sinking his teeth deep into the sleeve. He tugged Holifield's arm this way and that until Treat called him off.
Holifield grinned, looking more relieved than amused. The others gave Cody a round of applause.
Treat also let Cody show off another skill — finding the tiniest amount of hidden drugs. It took the K-9 just seconds to locate five grams of marijuana tucked under the bumper of a Forest Service truck. He barked and pawed at the spot until Treat intervened.
"When he gets to the odor he likes to scratch at it," Treat said. "I try to get him to sit because we've torn up a couple of rigs."
Treat tossed his partner a ball as reward. The dog happily accepted his prize, mashing the ball aggressively between his strong jaws until saliva flowed freely.
Cody and Treat apprehend people with marijuana or methamphetamine every weekend on the Hungry Horse district.
They patrol 50 miles of roadway along Hungry Horse Dam as well as the backcountry. Sometimes they use tips from citizens or other law enforcement officers, and sometimes they just follow their instinct.
"You never know what you'll run into," Treat said, "but there are certain places where the dirt bags hang out."
Large amounts of drugs pose no challenge for Cody's sensitive nose.
However, he can lead his handler to pipes or other paraphernalia even if no drugs remain. Cody can detect the smell of marijuana on vehicle seats days after someone smoked there.
Commands are given in German for two reasons. It was the language Cody was trained in, and Treat said it also allows him to communicate with the dog without bystanders knowing what's about to happen.
Cody has worked in Lincoln County a couple of times as part of drug task force investigations. He's also available to Kootenai National Forest law enforcement officer Paige Leddy when needed.
Both officers believe there's need for the Kootenai to have its own full-time K-9.
"No question about it," Treat said.
"A dog is a valuable tool anywhere, especially being on the border," Leddy said.
---