Trapshooting facility to open at county range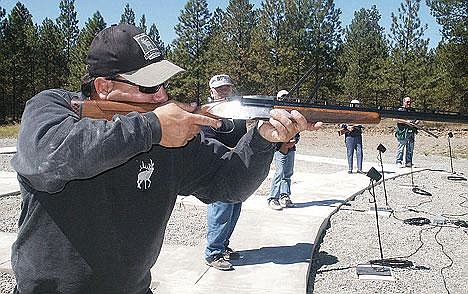 Russ Decker of Kalispell takes aim on a clay pigeon Saturday while Charlie Decker, Libby; T.C. Decker, Kalispell; Gerrie Nelson, Libby; and Dean Nelson, Libby, await their turn. An automatic voice caller is in front of each shooter.
|
August 19, 2005 12:00 AM
By STEVE KADEL Western News Reporter
Orange clay pigeons flew through the air Saturday at Libby Shooting Range as shotgun blasts cracked them into pieces.
A select group of shooters gathered to try out the range's new five-station trap facility, including state-of-the-art automatic voice callers and a trap machine. The $9,000 project was funded by a grant from Friends of the National Rifle Association.
"This is an appreciation-day shoot for those who volunteered to work on it," said Al Corda of the Libby Scatterguns, a group that is part of the Libby Rod and Gun Club.
Twenty men and women enjoyed perfect shooting weather to test the facilities. The trapshooting range officially opens to the public at 3 p.m. on Wednesday, Aug. 24.
"The machine throws singles and doubles," said Ed Lewis, chairman of the Scatterguns.
Contractors excavated the site, which now includes a network of cement walkways on packed gravel. The first shooting stations are 16 yards from the trap house, but two more rows behind that add difficulty for those seeking more challenge.
Plans are to add a canopy and more shooting stations in the future. But for now, the new shooting option at the range near Libby Airport has everyone's approval.
Fees for trapshooting will be $3 a round for club members and $4 for non-members. Lewis said that will help pay for insurance, power and clay pigeons. The club wants to keep prices as low as possible to allow everyone a chance to shoot, he said.
That philosophy is in keeping with trap's historic roots. Lewis said the sport originated in England as an alternative to the aristocrats' hunting parties, from which the common folks were barred.
Trapshooting hones a person's talent for shooting rising game birds, Lewis added.
A storage building sits adjacent to the trap site. It was donated by the U.S. Forest Service.
"We just had to move it and we had volunteers to do that," Lewis said.
A year-round caretaker lives at the site and will open and close the gate each day.
With other recent additions such as a canopy for the archery area, the shooting range is turning into a draw for more than local residents. For example, Russ and T.C. Decker came from Kalispell for Saturday's appreciation day.
"Things really are shaping up out here," Lewis said as another shotgun blast pierced the air.
---