Cooperation needed with county trash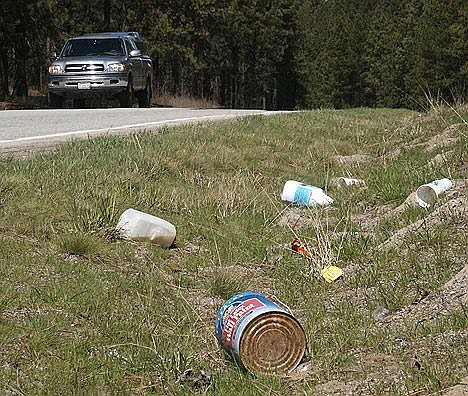 State highway crews call Pipe Creek Road the most littered road in the county because of the careless way people haul trash to the dump.
|
April 22, 2005 12:00 AM
By BRENT SHRUM Western News Reporter
Spring cleaning is taking its toll on Lincoln County's refuse collection sites, and county officials are asking for the public's cooperation in keeping garbage where it belongs.
The seasonal influx of trash means that the county's "green box" sites are needing daily maintenance, said county sanitarian Ron Anderson. Drivers of collection trucks are often finding items - like lumber, furniture and appliances - that don't fit or don't belong in the boxes, requiring them to send another truck to pick them up.
"There's just a heck of a lot of extra expense and effort that you don't need," Anderson said.
Most people are pretty good about using the sites properly, but the problem is "the few that ruin it for everyone," said county landfill manager Calvin Davis.
Davis once saw an entire Subaru station wagon cut into pieces and dumped into the Cliffside green boxes, a clear violation of the posted rules stating that the boxes are for household garbage only.
"It took three containers for that Subaru," Davis said.
Another time, a V-8 engine block was hoisted into a container and later covered with garbage so it wasn't visible to the collection truck driver. When the container was dumped into the back of the truck, the falling engine block knocked a hole in the floor, Davis said.
Even regular household garbage causes problems when not properly handled. Drivers often find one container at a site overflowing and spilling out onto the ground while others remain empty. The spilled garbage is not only an eyesore that requires extra work for county crews, it attracts unwanted scavengers like bears.
"Once a bear gets used to one of these sites, they don't have a very good future ahead of them because they're eventually going to be destroyed," Anderson said.
After years of trying to find a system for trash bins that is both wildlife resistant and user friendly, Anderson is about ready to give up. He said he's looking toward securing the site rather than the containers by putting a fence around the entire facility. The sites in the upper Yaak and at Glen Lake will be the first to get the treatment on a trial basis.
"We're going to see if maybe that will do it," he said.
The revamped sites will have a gate that will have to be locked at night and unlocked in the morning.
"It's going to be a change for folks, especially those that like to dump garbage at 2 in the morning or whatever," Anderson said. "There are going to be hours the sites are open and hours they're not."
Garbage blowing out of the back of trucks on the way to the landfill along Pipe Creek Road is another problem, making a full-time job for state highway workers and the Youth Court Services crew that has adopted that section of road. The negligent littering happens year-round but is worse during spring cleaning time, said Sheriff Daryl Anderson.
Garbage found along the road is examined for evidence of the source, Anderson said. Violators face fines of up to $500.
"If we find a name, we're knocking on their door," Anderson said.
Davis said he's hoping a little more cooperation from the public will lessen the trash problems.
"We'd like to keep the refuse assessments where they are now," he said. "We don't want to have to raise their taxes."
---