November 18, 2022 7 a.m.
"They have no idea what the process is, they don't want to ask, they just want to accuse," Moore said. "These people are absolutely insane."
April 1, 2022 7 a.m.
A measure lawmakers passed last year that relaxed nutrient standards is now before a federal court.
March 22, 2022 7 a.m.
The Montana Secretary of State will poll state legislators over the next month on whether they want to convene a special session to investigate the state's elections systems.
March 22, 2022 7 a.m.
BOISE, Idaho — Washington Gov. Jay Inslee on Thursday said his state will protect Idaho residents' access to abortion procedures as he signed a bill solidifying some health care workers' ability to perform abortions and forbidding Texas-style punishment for providers.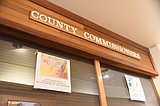 March 18, 2022 7 a.m.
Libby area Republicans will pick between two men with plenty of previous experience as local elected officials to serve as their next representative to the Lincoln County Board of Commissioners.
March 15, 2022 7 a.m.
GREAT FALLS, Mont. (AP) — The Montana Democratic Party is hiring someone to work with tribes to help engage Native American voters, party executive director Sheila Hogan said.
March 11, 2022 7 a.m.
HELENA, Mont. (AP) — A trio of federal judges adopted a new map Tuesday under which Montana will elect members of the Public Service Commission this year, unless the Montana Legislature acts to update the map used to elect the five-member board to regulate monopoly utilities.
March 4, 2022 7 a.m.
WASHINGTON — The House Jan. 6 select committee says former President Trump and his campaign may have tried to illegally obstruct Congress' counting of electoral votes and "engaged in a criminal conspiracy to defraud the United States."
February 25, 2022 7 a.m.
BOISE, Idaho — Controversial legislation that would repeal an Idaho statute prohibiting private militias cleared another hurdle Wednesday, when the House passed the bill with little debate.
February 22, 2022 7 a.m.
HELENA, Mont. (AP) — A disagreement among Montana Republicans over whether the Legislature should investigate the integrity of the state's elections has apparently undermined an effort to call a special session to establish new voting districts for choosing members of the state's utility regulation board.