Child categories
November 29, 2022 7 a.m.
This effort mobilizes over 72,000 volunteer bird counters in more than 2,400 locations.
April 8, 2022 7 a.m.
East, west or beyond, sooner or later events elsewhere may have a local impact. A recent sampling:
April 5, 2022 7 a.m.
Bozeman may be Montana's most expensive major city, with the median single-family home price in Gallatin County approaching $900,000 as of February, but population data released March 24 by the U.S. Census Bureau indicates it has forfeited another title: fastest-growing urban area.
April 1, 2022 7 a.m.
Russian troops began leaving the Chernobyl nuclear plant after soldiers got "significant doses" of radiation from digging trenches at the highly contaminated site.
April 1, 2022 7 a.m.
U.S. officials on Wednesday announced approval of a conservation group's proposal to expand bison grazing on prairies in north-central Montana as part of a vast nature reserve over objections from some ranchers and elected officials.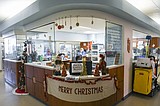 December 24, 2020 7 a.m.
OPELIKA, Ala. (AP) — A Christmas tree stands outside the intensive care room where a man stricken by COVID-19 lies unconscious, a machine breathing for him. A few feet away, a plastic snowman adorns the door of another patient whose face is barely visible behind ventilator tubes.
November 3, 2020 7 a.m.
Through opening weekend of the general hunting season, Montana Fish, Wildlife and Parks has collected more than 170 samples from harvested deer, elk and moose to test for chronic wasting disease across Northwest Montana.
November 3, 2020 7 a.m.
A Flathead Valley father and son were hospitalized with significant injuries after being attacked by a grizzly bear on timberland located near Smith Lake, north of Whitefish Lake, on Saturday morning.
October 27, 2020 7 a.m.
The Montana Department of Public Health and Human Services has lodged complaints against four Flathead County businesses alleging the entities violated COVID-19 directives by failing to ensure employees and patrons wore masks and that the establishments displayed proper signage related to COVID-19 protocols.
September 1, 2020 7 a.m.
Troy City Council unanimously approved their budget for fiscal year 2021 during an Aug. 26 meeting.