April 22, 2022 7 a.m.
Eating disorders, including anorexia, bulimia, and binge-eating disorder, are some of the most fatal mental illnesses. Yet treatment options are sparse, particularly in rural states such as Montana.
April 22, 2022 7 a.m.
State and energy officials have held a ceremony to mark completion of a carbon dioxide pipeline used to help recover more crude from older oil fields. Plano, Texas-based Denbury Resources' pipeline runs through Slope and Bowman counties to old oil fields along the Montana-North Dakota border. The carbon dioxide is injected underground to force oil to the surface. Denbury is targeting oil fields that straddle the border. The carbon dioxide would come from Wyoming. It would travel via several pipelines in Montana before crossing into North Dakota. The North Dakota portion of the 18-mile, two-state $9.2 million line spans 9 miles.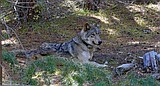 April 22, 2022 7 a.m.
The growth of Oregon's wolf population slowed significantly last year because 21 animals were killed by human poaching, were hit by cars or were killed by wildlife officials after eating livestock. The Oregon Department of Fish and Wildlife says the 2021 census counted 175 wolves, up just two animals from the previous year. The number of documented packs decreased to 21 from 22 after eight wolves in eastern Oregon were illegally poisoned. It was the slowest rate of wolf growth since 2016. Agency officials also say wolves expanded their range into four new areas of activity in rural areas.
April 22, 2022 7 a.m.
Police in Billings say they are investigating after an 84-year-old woman died from injuries suffered when she was attacked by three dogs earlier this month. The attack happened on April 8. Yellowstone County Deputy Coroner Rich Hoffman says Melitta Hain died on April 16. Billings Police Lt. Matt Lennick says the attack happened on private property and involved three large, mixed breed dogs. The dogs are being held at an animal shelter for now. No arrests have been made and no charges have been filed.
April 19, 2022 7 a.m.
Search teams have recovered the body of one of two teenagers who went missing after their kayak capsized in a lake in northwestern Montana last week, officials said Monday.
April 19, 2022 7 a.m.
It's not an emergency, it's a house call. Madison Valley Medical Center first responder Corey Siders recently knocked on the front door of an Ennis home, just to check on 91-year-old Robert Kensinger.
April 15, 2022 7 a.m.
State environmental officials unlawfully approved a large copper mine in central Montana despite worries that mining waste would pollute a river that's popular among boaters, a state judge ruled.
April 15, 2022 7 a.m.
As the midterm election season ramps up, the Biden administration wants rural Americans to know it'll be spending a lot of money to improve health care in rural areas.
April 15, 2022 7 a.m.
A tornado tore up a small Minnesota town and a blizzard forced the closure of the North Dakota Capitol, schools and roads, as spring storms wreaked havoc across the Upper Midwest.
April 12, 2022 7 a.m.
Washington's wolf population grew in 2021 for the 13th consecutive year, showing a 16% increase from the previous year, the state Department of Fish and Wildlife said Saturday.