A new face in longterm care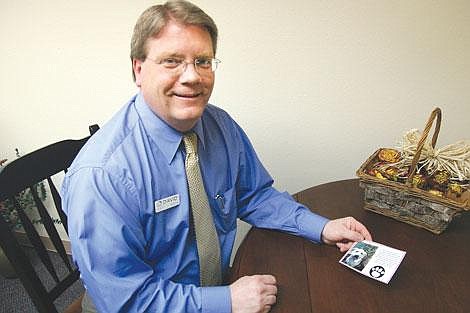 A new face in longterm care
by
Hope Nealson Western News
|
March 14, 2008 12:00 AM
Although Libby Care Center Administrator David Sande Jr. wasn't looking for a new job, he liked the progressive style of the Libby Care Center.
"I kept saying I'm fine where I'm at," Sande said, adding he changed his mind when he toured the facility.
"I thought, 'Wow! This has a lot of potential - they are going in a new direction and breaking into the acute medical needs of the community,'" he said.
According to Sande, care facilities have changed over the years; long-gone are the "mom and pop" type of nursing homes, as stricter regulations forced them out of business.
"Longterm care has become highly regulated," said Sande. "We're in the top three - the first is airlines, after 9/11, and the third is nuclear power."
More regulations not only translates into higher costs, more patients are requiring specialized care.
"I cannot even think of one privately owned facility," Sande said, adding most are owned by multi-level chains or not-for-profit hospitals.
"A lot of them got out of it because the regulatory requirements got so stringent - they couldn't keep up with the changes," he said.
Libby Care Center is an independent liability limited corporation owned by General Electric and run by Shoreline Management.
Sande said he liked the corporations' proactive style, assisting clients to improve their health much like a hospital would.
"It's very much of a challenge," he said. "I love helping people get better, and making sure the ones that are here that aren't going to get better have the best possible care they can get."
Care facilities have been a part of Sande's family for generations.
Born in Big Sandy, he assisted his parents with their care center, eventually leasing it from them.
"My grandmother had a facility in 1957, so I grew up around them," he said, "When I was offered an opportunity to return, I jumped at the chance to get back to Montana."
Sande graduated from University of Montana in business administration, receiving his MBA from Golden Gate University in San Francisco; he has been licensed in Montana as a nursing home administrator for the past 15 years.
Sande left Evergreen Health Care out of Missoula and Polson to work at the Libby Care Center last November.
"I love this side of the state," he said. "I've lived in Columbia Falls and Whitefish, and when I got the call I came up and absolutely loved the facility and the people here - and the area."
Sande said the Libby Care Center exemplifies the wave of the future in care facilities, offering a specialty care unit, a dementia unit, and a longterm care unit.
"We are able to extensively rehabilitate people and get them back out in the community," he said. "It's a new concept and I don't believe any other facilities are doing this in Montana," he said, noting the east coast is providing these types of medical models.
To decide on what types of units to provide, the Libby Care Center took a look at what kinds of patients were being released in the area and identified a local need, according to Sande.
The first was a pulmonary unit - because of the asbestos related diseases, and the second was an orthopedic unit for rehabilitation of fractures, hip and knee replacements.
"More hospitals are required to discharge patients sooner than later, so there's no place for them to go," said Sande. "We're more of a medical facility trying to facilitate the medical model."
Sande said it's beneficial in to have the resources of a larger company.
"They have consultants and environmental services that can aid and assist us," he said.
Sande said he is kept busy with two separate therapy gyms - one for longterm care patients and one for intense rehab patients.
These are used in conjunction with therapies, including respitory, speech, physical and occupational therapies.
"When they come in, our focus is on discharge - nurses, activities, therapists, and dietary," said Sande, who added they have a staff of 140 who work the 24 hour, 7 days per week hours.
"Once, during a shift change, we asked all staff to please come to the nurses' station," he said. "I felt like I was at a concert or something."
The center has about 85 patients, most of them local.
Ages range from a 23-year-old male with a double amputation to a 101-year-old longterm care patient.
"People think it's just the elderly and dementia," said Sande. "But we're for all ages."
Currently they are locating, and transferring when possible, Libby-area patients through Spokane and Kalispell liasons.
"Why travel all that way if we can get them back here?" asked Sande.
---