Trying to save a little piece of heaven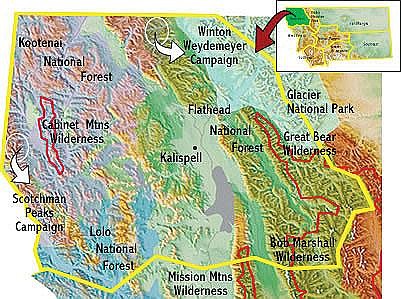 Trying to save a little piece of heaven
Friends of the Scotchman Peaks Wilderness set out three years ago to protect a wilderness mass of 88,000 acres straddling the Montana/Idaho border.
Although the roadless area has yet to be permanently designated as a wilderness area, the group of Montana and Idaho members are still working hard toward their ultimate goal. Originally the group was formed in Sanders County in Montana and Bonner County in Idaho. Lincoln County support came into the mix last year, according to member Don Clark.
The group is working to garner enough support for the federal government to officially designate the area as wilderness area. The National Wilderness Preservation System was designated in 1964 and ensures an area designated as wilderness will be protected from development and logging. It would take a Congressional Act to designate the area as a wilderness area.
"This would be a tremendous asset to the community," Clark said.
The 88,000 acres surrounding Scotchman Peak is found north of Highway 200 and west of Highway 56 near the Cabinet Mountains Wilderness area. Scotchman Peak is the highest point in Bonner County and reaches 7,009 feet. The area is commonly known as the "West Cabinets," Clark added. The U.S. Forest Service has managed the Scotchman area, a proposed wilderness since 1987.
The number of roadless wilderness has decreased exponentially in northwestern Montana in the past several decades. In 1940, there were a total of 6,961,400 acres of wilderness, of which 6,121,100 acres were unprotected and 840,300 acres were protected, according to information provided by Clark. The number of
roadless wilderness acreage fell to 5,296,300 in 1975, with 4,338,200 being unprotected acres and 958,100 protected. By 1999, the amount of roadless acres in northwestern Montana had been slashed to 3,367,320, of which 1,957,983 acres were unprotected and 1,409,337 were designated as protected.
Friends of Scotchman Peaks Wilderness have amassed support from the Libby Rod and Gun Club, the Society of American Foresters, the Rotary Club and Gov. Brian Schweitzer, among several others between north Idaho and western Montana.
"This is a great piece of land and we'd like to keep it that way," according to Doug Ferrell, Friends of Scotchman Peaks Wilderness vice-chairman and Montana director. Ferrell is based in Trout Creek.
The area is home to mountain goat, elk, moose, deer, bull trout and black and grizzly bears. In addition to wildlife, the Scotchman Peaks area also boasts hiking, backpacking, hunting, snowshoeing and photography opportunities.
"This is a special place that isn't really suitable for anything else," Clark explained. "We're saving this for our own posterity — for our own grandchildren."
The Friends of Scotchman Peaks Wilderness will be exhibiting a slide show on mountain goats and their vulnerability to human disturbance at 7 p.m. on Tuesday, Nov. 20 during the Libby Rod and Gun Club meeting at the First National Bank in Libby. Retired Montana Fish, Wildlife and Parks biologist Gayle Joslin will be leading the presentation.
For more information on the Friends of Scotchman Peaks Wilderness go to www.scotchmanpeaks.org .
---